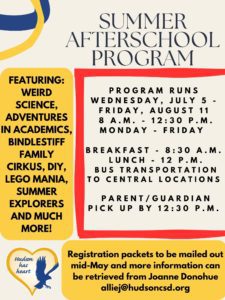 The Hudson Bluehawk Nation Afterschool Program (HBN ASP) provides after school services for Hudson students in Grades K-8.

Click here for general program information.
Click here for HBNASP News from August 2023.
Contact Us
If you have any questions, please do not hesitate to call HBN ASP Program Director Joanne Donohue at 518-828-4360 ext. 3193.
In 2013, ASP was very proud to be one of 125 districts in New York State to be funded by the 21st Century Grant (out of more than 450 applicants). The program started in a classroom with six employees and has since expanded to all HCSD schools with more than 70 employees.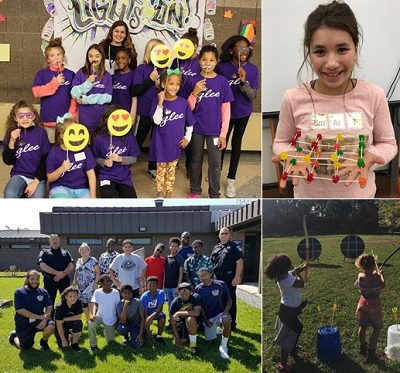 About HBN ASP
The ASP is now known as the Hudson Bluehawk Nation Afterschool Program (HBN ASP) and has expanded to grades K-12.
In 2017, HBN ASP was one of eight programs nationwide chosen to be featured in a documentary by the National Association of Elementary School Principals (NAESP). The goal of the NAESP film is to show principals how to incorporate effective afterschool programs in their buildings. The focus of our segment is "Community Collaborations" and how we incorporate the community into our program.
Watch our segment here, which was released in early 2018:
Mission
To provide high-quality afterschool programs and services that improve living conditions and learning outcomes for all students and families in the Hudson City School District.
Vision
Each day students will participate in a positive learning and living environment that provides safe, secure and successful afterschool experiences.
Goal
To provide a safe, secure environment to allow students to grow into caring and productive adults.
Programs
Designed to incorporate the following components: academic, cultural and recreational, conflict resolution/violence prevention, student leadership development, drug prevention, social awareness and more.
The HBN ASP also runs a My Brother's Keeper program, or Hudson MBK, for junior high boys.