Mark Brenneman, Principal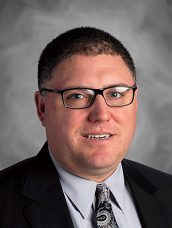 Mr. Brenneman has served as Principal of Montgomery C. Smith Elementary School since 2009. Previously, he served as Associate Principal of the Junior High for two years. Before coming to the Hudson City School District, Principal Brenneman worked at New Covenant Charter School as Special Education Director and Associate Principal, each for two years. He previously taught as a Special Education Teacher at New Covenant and as a Head Teacher at the Neil Hellman School in Albany. Mr. Brenneman was named Capital Region Administrator of the Year by the Empire State Supervisors and Administrators Association in the 2012-2013 school year. He did his graduate work at the University at Albany in Education Administration and earned his M.S.Ed. in Special Education from the College of Saint Rose. He has a B.S. in Human Development from Pennsylvania State University. Read more in his Alumni Spotlight published in February 2020.
 Kristen Strothmann, Associate Principal
Kristen Strothmann serves as Associate Principal at Montgomery C. Smith Elementary School. Ms. Strothmann grew up in Poughkeepsie, NY and currently lives in Stanfordville, NY. She completed her undergraduate work at SUNY Cortland in childhood education and got her masters degree at SUNY Albany in literacy and special education. She recently completed a degree in Educational Leadership at Massachusetts College of Liberal Arts. Ms. Strothmann began her career as a special education teacher at Watervliet Elementary School then relocated back to Dutchess County and taught in a self-contained classroom at Poughkeepsie Middle School for several years. Her passion for literacy and early learning led her to Mill Road Primary School, where she spent the past 7 years teaching. After 17 years of teaching, this will be Ms. Strothmann's first year in a administrative role. She is excited for this change and is looking forward to using her experience in the classroom to best support students, teachers, and families.
Carrie Patch, Associate Principal
Carrie Patch has worked with and taught children of a variety of ages for over twenty years. Most recently, she was a sixth grade classroom teacher, literacy specialist, and administrative intern in the East Greenbush Central School District, outside of Albany, NY. Before that, Carrie was a head teacher at two small, rural private schools with students ages 5-13. Through the years, she has also been a Wilderness Director, a No Place for Hate advisor, a school board member, a Banana Splits facilitator, and a teacher in Edinburgh, Scotland.
Born in New Paltz, NY, Carrie earned her Bachelor of Arts degree at Hamilton College with a concentration in Theatre. She also holds a dual Master of Science degree in Teaching Literacy and Childhood Education from Bank Street College in New York City. Most recently, she received her Certificate of Advanced Graduate Study in School Building Leadership from the Massachusetts College of Liberal Arts (MCLA) Leadership Academy in North Adams, Massachusetts.
Ms. Patch believes firmly that educators are lifelong learners. Thus, over the years she has attended a multitude of professional development sessions, led a district-wide book study on AntiBias AntiRacist teaching, and continues her graduate studies by pursuing a certification in School District Leadership, also from MCLA. Additionally, she co-facilitated a virtual workshop entitled "Holding Space and Sharing Resources with Hamiltonians Who Parent" at the onset of the Covid-19 pandemic.
Alongside her professional endeavors, Carrie enjoys hiking in the Adirondacks with her husband and two children (ages 10 and 13), practicing yoga whenever and wherever she can, and ravenously reading during her rare moments of leisure time.