On Tuesday, February 9, 2016, voters approved the financing for HCSD's Capital Project, allowing the District to restructure and make improvements that can benefit students and the entire community. Thank you to everyone who took the time to learn about the project and cast their votes.
The Capital Project proposition passed, 611-399 (click here for a breakdown of the results). With this approval, HCSD can now move forward with the design phase. Through this process, the district will continue to share information and listen to feedback from staff, community organizations and residents.
---
Project Goals
The project will address important needs such as:
Replacement of aging infrastructure items that are nearing the end of their useful life
Increased efficiency in terms of space and energy usage
Improvement of classroom instruction by reorganizing grades to make better use of space and shared resources
Provide students and the community with safer and more useful athletic facilities
Safety issues related to bus loops and traffic patterns as needed
Planned maintenance and repairs
Capital Project Video (January 2016)
More Information
Tentative Timeline
The infographic (right) details the estimated project timeline: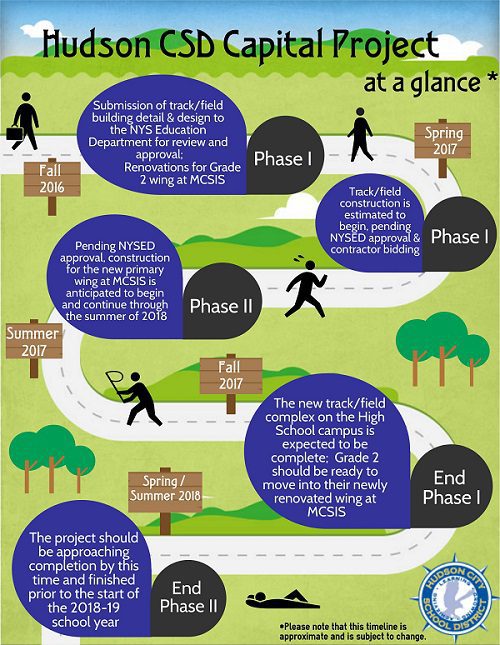 Fall 2016

Submission of track/field building detail & design to the NYS Education Department for review and approval

Spring/Summer 2017

Track/field construction is estimated to begin, pending contractor bidding
Pending NYSED approval, construction for the new primary wing at M.C. Smith Intermediate School is anticipated to begin and continue through the summer of 2018

Fall 2017

The new track/field complex on the High School campus is expected to be completed
Grade 2 should be ready to move into their newly renovated wing at MCSIS

Spring/Summer 2018

The project should be approaching completion by this time and finished prior to the start of the 2018-19 school year
In the News
August 2017 — Please note that since the Register-Star transitioned to www.hudsonvalley360.com, some links may not have transferred.