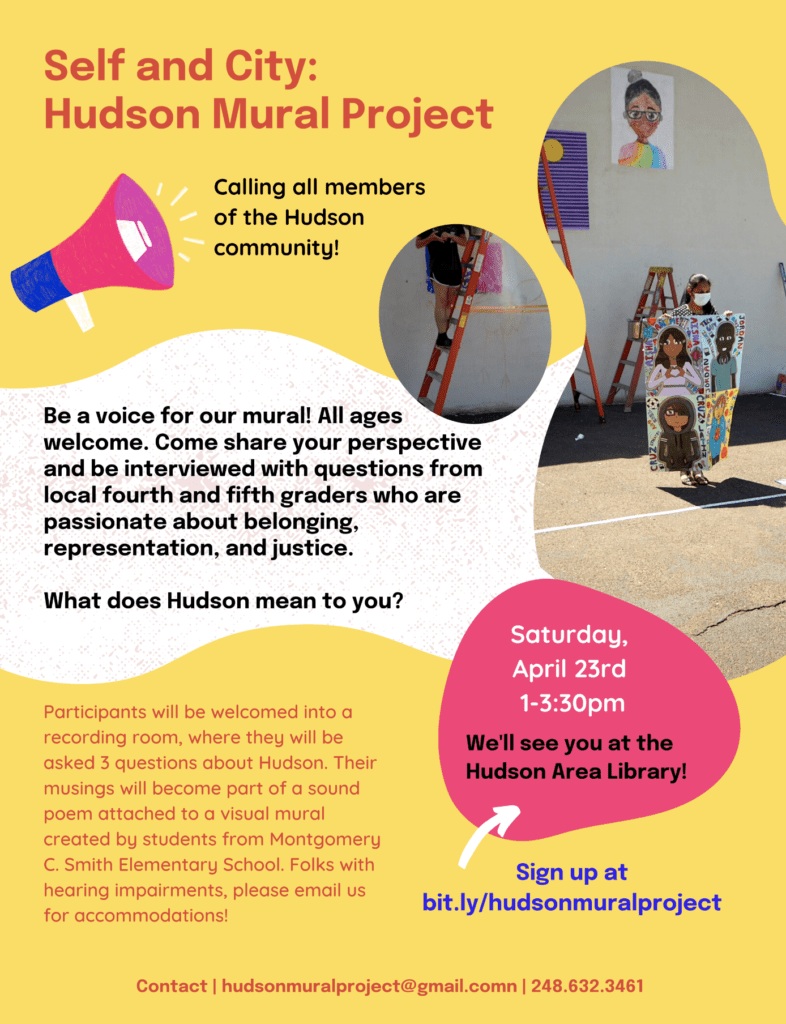 Be a voice for a mural project by Hudson City School District students! We are thrilled to welcome you in creating a mural that represents the heart of Hudson through its unique community.
When: Saturday, April 23, 2022, from 1:00 – 3:30 p.m. (or submit your recording online; see instructions below)
Where: Hudson Area Library
Who: Residents of all ages who live within the Hudson City School District
What: Participants will be welcomed into a recording room, where they will be asked 3 questions about Hudson developed by local fourth and fifth graders. Each interview will take approximately 10 minutes or less. In collaboration with local artists, students will create an art installation which will include a painted visual mural and sound poem from parts of the interviews, accessible through a QR code on the mural. People passing by will be able to look at the mural while they listen to it!
Sign Up: http://bit.ly/hudsonmuralproject
If slots get taken up or you are busy that day, we are also accepting recordings by email!
Instructions:
Answer the three questions below in order.
You can record it on your phone in your voice memos or download a voice recorder app.
Restate each question before answering it.
Please keep your answer down to 1 minute per question
Record your answers in a quiet, indoor space, away from the refrigerator, running toilet, or fan.
Upload your recording into the google form.
*If you have problems with the form, you can text the file to Victoria: 248.632.3461 or email us for help: hudsonmuralproject@gmail.com
Questions to answer:
Why do you like living in Hudson?
What is something you hope for Hudson's future? (Consider what you would like more of, less of, or have access to – as small or big as you wish! Could be more playgrounds or better affordable housing, etc)
How can people in the community come together and achieve this?
Contact: hudsonmuralproject@gmail.com or 248-632-3461