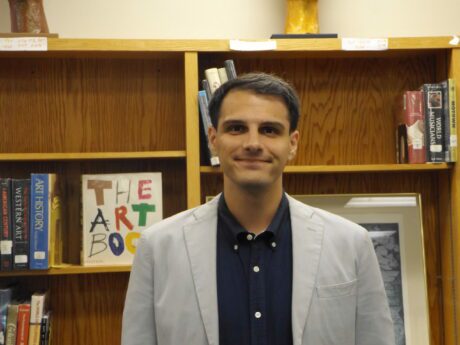 Meet Gregory MacVicar, a school psychologist at Montgomery C. Smith Elementary School. He works closely with students, teachers and parents to support the mental health, learning and behavioral needs of children.
Here are a few things to help you get to know Mr. MacVicar, including his best advice and why he is excited to be joining the Hudson City School District:
What is your role here at the Hudson City School District, and where do you work?
I am one of the school psychologists at Montgomery C. Smith Elementary School. Specifically, I work with Kindergarten, 1st Grade, and 2nd Grade students.
When did you start working here?
My first official day was September 1, 2021. I got to meet my mentor, who has helped me immensely in my first few weeks, and get a feel for the district as I settled into my new role.
What does your job entail? What are your responsibilities/priorities?
I always say being a school psychologist is like being a jack-of-all-trades. Every day looks different. Between testing students, writing reports, seeing students for counseling, attending CSE and 504 meetings related to special education, collaborating with teachers and parents, or analyzing student behavior, there's always something to do.
What do you like most about your job?
I like how dynamic the job is. With all the different responsibilities I have as a school psychologist, it's hard for a position like this to ever feel stale. But more than that, I love seeing the progress our students make over time. Seeing them grow as individuals or overcome something they were struggling with makes all the work worthwhile.
What is your education background?
I graduated from Pace University with a B.A. in Psychology. From there, I attended CUNY Brooklyn College where I earned an M.S. in Education and my Advanced Certificate as a School Psychologist.
What is your background like – previous jobs? Before working here, what was the most unusual or interesting job you've ever had?
Previously I worked as an individual aide for special education students. I use a lot of that experience to inform how I work today. Before heading back to school for school psychology, I actually worked in the office of a clothing company. I was responsible for organizing show rooms, delivering sample products to other offices, photoshopping photos of new seasonal lines, and generally assisting the sales team with whatever they needed help with. An interesting job, but definitely one way outside my current field.
Tell us a bit about your life outside of school.
Outside of work, I enjoy going to live shows. Whether it be an upcoming artist at a small venue or a popular act at a large arena, I love coming together with others through music.
What is the best advice anyone has given you?
Best advice I ever got was from my mom, who always told me "everything happens for a reason." There were times in my life where I thought setbacks were going to be the end of my ambitions, but those words always carried me back to where I needed to be. Despite the struggles, I always came out on the other side, and when I looked back I appreciated what I had to go through to get there.
What is your motto or personal mantra?
My personal motto is "every day, it gets a little easier." What I mean by that is, when you first start out at anything, it's tough. But the real hard part is sticking with it and doing it every day because that's the way it gets better. Once you build towards what you're working on through dedication, the difficult stuff won't seem so difficult anymore.
Anything else you want to share?
I'm excited to have the opportunity to work as a school psychologist at Hudson! I can already tell that the environment cultivated at Hudson is one that supports its students and staff as we work towards success for our district.