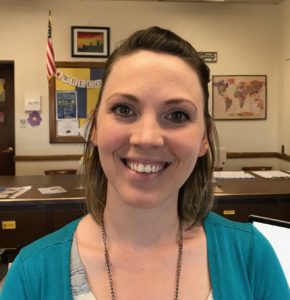 Mrs. Candice Strattman is a new face in the main office at Montgomery C. Smith Elementary School who started when Miss Courtney transferred to Hudson Junior High School. Miss Candice is the "go to" person in the building and ready to help with a variety of needs. As a former Teaching Assistant, she has a passion for public education and supporting teachers and students any way she can.
Here are a few things to help you get to know Miss Candice:
What is your role here at the Hudson City School District, and where do you work?
I am the Secretary to the Principal of the Elementary School, Mr. Brenneman. My desk is in the main office of MCSES.
When did you start working in the district?
I started working for the district in March 2019.
What does your job entail?
My job consists of many different clerical responsibilities such as answering phones, ordering supplies, forwarding reports/forms (e.g., conference requests, injury reports, field trip requests), scheduling observations and more!
An important priority is making sure our parents are informed about school activities, so I recently developed a weekly newsletter that will be sent to MCSES parents via email.
What do you like most about your job?
I love being the "go to" person in the building who everyone turns to for their needs!
What is your education background?
I earned my Bachelor's degree in Early Childhood Education in 2016.
What is your background like – previous jobs?
I started working for the Columbia County Health Department in 2011 where I performed similar duties to what I do now at MCSES. In 2013 my family relocated to Northern New York and I worked for Rutland Mental Health securing employment for people with Intellectual Disabilities. While working on my Bachelor's degree, I was a Teaching Assistant in the Granville Central School District. After my son was born, I decided to be a stay-at-home mom for a few years.
My experience as a TA made me realize that I loved working in a school but preferred an office setting over the classroom setting. After moving back to Columbia County and working for the Columbia County Mental Health Clinic, I was offered the opportunity to work for the HCSD and couldn't pass it up. I felt like it was the perfect combination of all my previous training and had so much to offer both myself and my family!
Tell us a bit about your life outside of school.
My life outside of work is 100% about my family. I have been married for just over five years. I have two step-daughters (ages 13 and 9), two children of my own (ages 3 and 1), a dog and 24 chickens! We love the outdoors and enjoy activities such as camping, hiking, fishing and farming. My family is very involved with our church and we love having play dates with the other families who have young children. I also love to read!
What is the best advice anyone has given you?
"Train up a child in the way he should go: and when he is old, he will not depart from it." – Proverbs 22:6
What is your motto or personal mantra?
If that's the worst thing that happened today, it's been a good day!