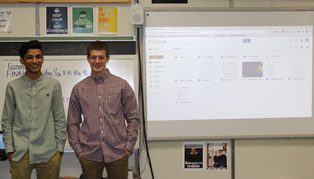 High school students had the opportunity to take a semester-long hybrid class/independent study in which they earned their Google Help Desk Certification.
As part of Mrs. Bender's course, the students wrote blogs and reviewed apps and tutorials. The course also required students to run a Google Help Desk, so not only did they learn hands-on skills but they also gained customer service experience.
For their final projects the students gave presentations to other students and faculty about various Google apps such as Google Calendar, Google Sheets, Google Drive, and Google Classroom. These informative sessions provided the students with additional experience in training others to use these technologies.