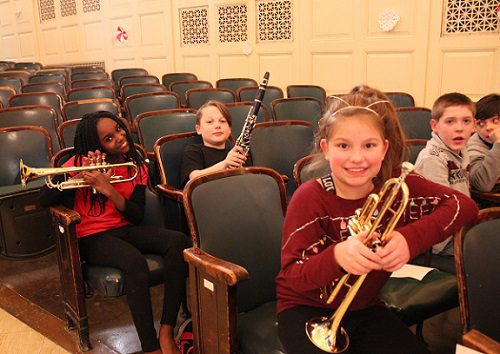 The Band program at M.C. Smith Elementary School is a chance for students to learn brass, wind and percussion instruments.
Students receive weekly lessons, attend band rehearsals, and perform in a variety of events throughout the year. Participating in the band program is a commitment made with the student and parent. Students are asked to practice each night in order to improve on their instruments.
Who can participate in band?
Students can begin participating in band when they enter 4th grade, but you can sign up your child as early as the end of his/her 3rd grade year.
Any Grade 4 student not already in Band or any Grade 3 student interested in joining 4th grade Band should fill out this interest form.
What instruments are available?
The instruments you can choose from are:
Clarinet
Saxophone
Flute
Trumpet
Trombone
Baritone
French Horn
Percussion
Band members should remain on their chosen instruments in order to progress. Switches will not be granted.           
How do I get an instrument?
You have two options for getting an instrument:
Rent one through a local music store (see below)
Rent one through the school. However, school instrument supplies are very limited; most students prefer renting through a local music store such as John Keal Music (in Albany) or Nivers (in Hudson). Contact information is listed below.
John Keal Music – 518-482-4405 (819 Livingston Ave Ext., Albany, NY)
If you place an order through John Keal Music, it can be delivered directly to the school.
Nivers – 518-828-0616 (809 Columbia Street, Hudson, NY)
Musica – 518-828-1045 (17 N. 4th Street, Hudson, NY)
What other items are needed?
A folder or 3-ring binder to put music in
A Lesson Book (Accent on Achievement) for their instrument, usually costs around $10-$12
A supply of pencils and a highlighter
Supplies appropriate for their instrument (see below)
In addition to the items mentioned above, students will need the following supplies for their specific instruments:
Clarinet, Saxophone: Reeds (approx. 4 to keep in case, size 2 1/2), cleaning kit
Trumpet: Valve oil, cleaning kit
Flute: Cleaning kit
Trombone: Slide oil, cleaning kit
French Horn: Key oil, cleaning kit
Baritone: Valve oil, cleaning kit
*Percussionists will need to buy their own sticks (size 5A) and practice pads in place of renting an instrument. John Keal Music has a Bell Kit rental that includes a pad, sticks and a bell set. Percussion students are asked to also purchase: Alfred's Drum Method, Book 1 for Combined Percussion.
When does band meet?
Each band student meets for a 36-minute lesson once a week. Lessons are held during the school day and rotate each week. Students are required to make up missed work when they attend a lesson or reschedule a lesson if they are unable to attend.
Questions?
If you have questions about the program that are not answered here, please feel free to contact Mrs. Leah Phillips, the Music teacher at MCSES:
Email: phillipsl@hudsoncsd.org
Mail: 102 Harry Howard Avenue, Hudson, NY