NOTE: The ballot has two sides, a front and a back. When at the polls, please remember to complete both sides and select board members on the back of the ballot before casting your vote.
1. Budget
Voters will be asked to vote 'YES' or 'NO' on a 2021-22 school budget in the amount of $52,244,404, and for the Hudson City School District Board of Education to be authorized to raise such portion thereof as may be necessary by taxes levied on taxable property of said school district.
2. Board of Education Election & Candidates
Voters will elect candidates to fill three (3) open seats on the Board of Education. Two seats are full three-year terms ending in 2024. The third seat is the remaining term of BOE member Justin Elliott, who resigned for personal reasons earlier this year. The candidate who receives the fewest votes will fill Mr. Elliot's vacated seat for the remainder of the term (effective May 18, 2021 through June 30, 2022).
Lucinda (Lucy) Segar, a current Board member, is running for re-election. No other candidates submitted nominating petitions. Therefore, Ms. Segar is the only candidate listed on the ballot. In addition to Ms. Segar, voters may write-in names of preferred candidates to fill the three open seats. Write-in candidates must reside within the Hudson City School District.
About the Candidate
Lucinda Segar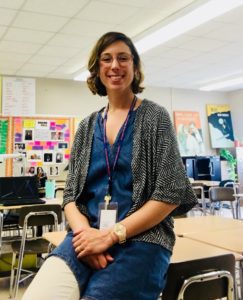 My goals as an incumbent school board member continue to be to help the district improve and meet its goals for academic achievement, aligning curriculum and instruction, and promoting social and emotional learning. Additionally, I hope to bring my perspective as an educator and community member, dedicated to teaching and learning about social justice to the school board and our diverse district.
I live in Hudson with my family and I currently teach eleventh and twelfth grade English at Catskill High School. Previously, I have worked as an educator in Hudson at Kite's Nest and through the Hudson Sloop Club. Throughout my career as an educator, I have taught kindergarten to college-aged students in a range of academic settings. I have my Masters of Arts in Teaching from Bard College, my MFA in writing from Columbia University, and I am NYS Certified in Secondary English Education. If re-elected, I will make our district's students, their academic opportunities and their social, emotional, and physical safety my priority. As a member of the policy and audit committees, I have worked hard to write policies that best serve our students and district, and to monitor the fiscal health of the district. I have learned so much from my previous term on the board and if re-elected, I look forward to serving and learning more.