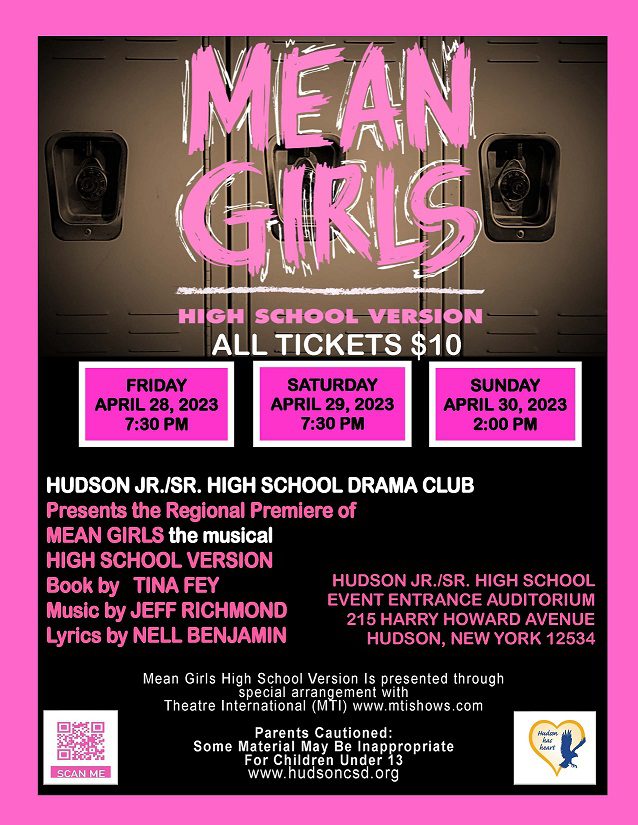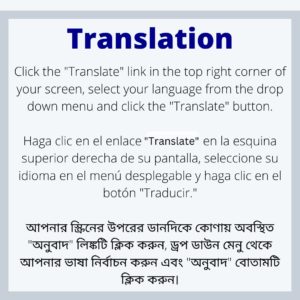 The Hudson Junior/Senior High School Drama Club is presenting the first regional premiere of the high school version of the hit Broadway musical "MEAN GIRLS!" Opening night will be April 28, 2023 at 7:30 p.m., with additional shows at 7:30 p.m. on Saturday April 29 and 2 p.m. on Sunday April 30. All performances are in the Hudson Jr./Sr. High school auditorium located at 215 Harry Howard Avenue, Hudson, NY.
Tickets are $10 for all show seating (or free with the HCSD Courtesy Card for Senior Citizens – call the district office at 518-828-4360 Ext. 2101 for information) Tickets are on sale now and can be purchased in the Jr./Sr. High School main office during school hours. Tickets will also be available at the door before each show time. "MEAN GIRLS" is rated PG-13. While the show will be presented as the high school version of the show, some content may still not be suitable for younger audiences.
"Mean Girls" is an iconic teen movie originally released in 2008, based on the book "Queen Bees and Wannabes," by Rosalin Wiseman, which dives into the dynamic and hierarchies within high school social groups. In 2018, "Mean Girls" was adapted into a Broadway musical, and most recently, the rights to the high school adaptation have been licensed. Hudson City School District is among the first to acquire the rights from Music Theater International (MTI).
The musical follows the life of Cady Heron, played by Kiersten Berry ('23), a girl who moves from being homeschooled in Africa to a public high school in America. Upon arriving, Cady befriends two social outcasts, Janis, played by Hannah Wisdom ('25), and Damian, played by Carlos Vazquez Jr. ('23), who teach Cady about the differing cliques and their hierarchy at the school. The Plastics are a group of 3 teen girls who rule North Shore High–Gretchen Weiners, played by Roxanne Hermann-McNamara ('23), Karen Smith, played by Cadie Weiss ('26), and their leader Regina George, played by Kiarra Rivera ('25), ranked as the meanest among them. As Cady becomes accustomed to the school, Janis and Damian recruit Cady to take down the Plastics from the inside; however, she begins to lose sight of herself and mimics their behaviors. She stops focusing on her interests and starts focusing on boys–specifically Aaron Samuels, Regina's ex-boyfriend, played by Kenold Dorce ('24), leading to a whirlwind of conflict between the Plastics, Cady and eventually the entire school.
Kiarra Rivera, the first-time actress playing Regina George, reveals the struggle of playing a character who directly contrasted her own personality: "Regina holds power in a way that I never had. She expects people to follow her like lost puppies because she knows everyone will," said Ms. Rivera. "I was struggling because I felt uncomfortable expecting such things from my peers… I had to get out of the habit of apologizing for treating them so awfully."
However, playing a villain or mean character doesn't only have downsides, as there is a newfound sense of confidence the actor has gained. Not only does "Mean Girls" empower the actors, it also accurately portrays high school life in a realistic way that the audience can relate to. The musical depicts multiple issues that teens go through daily, from body image issues to bullying and its effects.
"I was in high school when the movie first came out," says Mean Girls Director Andrew Stein, "and it was as truthful then as the musical is now. These kids face these sorts of issues every single day, and I have never encountered a script which so perfectly balances satire with biting truth to portray the everyday struggle that students face. And these kids are funny."
"Theater is just so important for these kids right now," says Assistant Director and Choreographer Danielle Scirico. "The amount of growth we've seen from this cast is unbelievable, and they're so excited to share what they've made."
"Mean Girls" is an icon of pop culture, with an engaging storyline that millions can identify with. The musical depicts the highs and lows of high school in a humorous way. This "Mean Girls" adaptation will be one of the many memorable musicals shown by Hudson Jr./Sr. High School Drama Club, and the second musical produced by Andrew Stein and Danielle Scirico as a creative team.
Mean Girls features a book by nine-time Emmy Award winner Tina Fey, based on her screenplay for the film; music by three-time Emmy Award winner Jeff Richmond; Lyrics by two-time Tony Award nominee Nell Benjamin. Tony Award winner Casey Nicholaw was the show's choreographer on Broadway.
The cast includes over 30 junior high and senior high school students. The live pit orchestra, directed by Mr. Stein, will include several faculty members of the Hudson music department as well as professional local musicians. Original projections by Devin Overington, with Wayne Francis as lighting designer, set design by Bill Sohmer, and costumes by Nadine Gabriel. Stage managed by Logan Rowe ('24).
The creative team recognizes that some of the show's themes are heavy and may feel adult, but these are real-life situations our youth are facing every day. Through the students' performance, they strive to find a way to use art to turn toxicity into positivity, connectedness, and empowerment. The students are able to pour their hearts and scream out to the top of their lungs. After four months of hard work, come experience this labor of love from 32 Hudson students who have grown and learned together. You really don't want to miss this show!