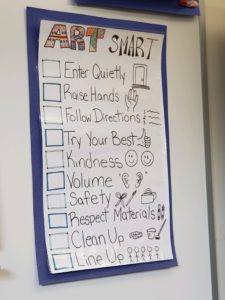 When students in grades 3-5 come to Ms. Chalavoutis' Art class, they are expected to follow the "10 Art Smart Rules." Each rule is worth one point and at the end of class, students discuss the rules that were followed and which need to be improved upon.
At the end of 10 weeks the classes with the two highest scores get an Art Party. At an Art Party. the class chooses what kind of art materials they would like to use, such as free paint, free drawing, team building or drawing challenge, an art escape room and more.
Congratulations to the first set of winning classes for each grade:
5th Grade: 1st Place Porpa, 2nd place Super.
4th Grade: 1st place Holmes, 2nd place Casciaro.
3rd Grade: 1st place Mavrikis, 2nd place a tie between Malin and Lent.