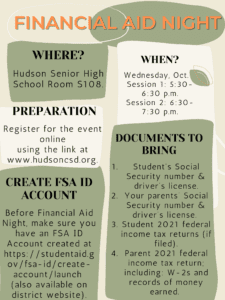 Join us in room S108 at Hudson Senior High School on Oct. 5 for two hands-on "Financial Aid Night" workshop sessions, the first being from 5:30 p.m. to 6:30 p.m. and the second going from 6:30 p.m. to 7:30 p.m.
Be sure to create an FSA ID account prior to the workshop by clicking this hyperlink.
To register a spot for either workshop, please register here.
Please bring the following items with you to the workshop:
Student's Social Security number & driver's license.
Parents' Social Security number & driver's license.
Student's 2021 federal income tax returns (if filed).
Parents' 2021 federal income tax return; including: W-2s and records of money earned.
Depending on circumstances, you may also need:
Records and documentation of other nontaxable income received such as welfare benefits, Social Security income, veteran's benefits, military or clergy allowances.
Records of any additional nontaxable income, examples include: child support received, veterans' non-education benefits, money received or paid on your behalf, etc.
Current bank and brokerage account statements, including records of stocks, bonds, mutual funds and other investments.
Business or investment farm records.