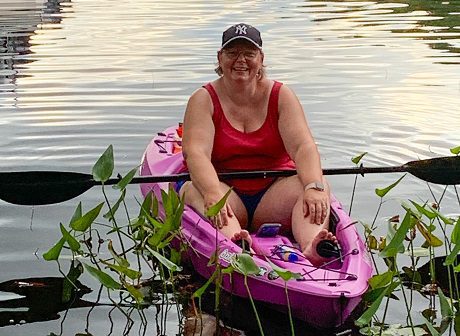 Stacy Silcock is the new school librarian at Montgomery C. Smith Elementary School. She became a librarian because she loves seeing students excited about books and reading, and fostering that love for reading. Like many of us, the best advice she ever received came from a Harry Potter book.
Here are a few things to help you get to know Mrs. Silcock:
What is your role here at the Hudson City School District, and where do you work?
I am the school librarian at M.C. Smith Elementary School.
When did you start working here?
January 2022.
What does your job entail? What are your responsibilities/priorities?
The library is a very busy place so I feel like I do a million things each day, but my priority is to make sure every student leaves the library with a book they will enjoy.
What do you like most about your job?
I love seeing kids excited about books and reading, and when they share their excitement with me, it fills me with joy.
What is your education background?
I have a Master of Science in Education (7-12 ELA) and a Master of Science in Information Science – School Librarian (K-12).
What is your professional background?
At my last school, I ran both the elementary and high school libraries – talk about busy!! And I love my profession so much that I drove an hour and a half each way to do it!
Tell us a bit about your life outside of school.
I love to cross stitch and read (of course) and, when the weather is nice, I love being on my kayak. I like to travel with my husband and son – road trips to National Parks or baseball parks are our favorite.
What is the best advice anyone has given you?
"Don't let the muggles get you down." – Ron Weasley to Harry Potter in Chapter 1 Prisoner of Azkaban (Book 3)
What is your motto or personal mantra?
"Google can bring you back 100,000 answers; a librarian can bring you back the right one." – Neil Gaiman