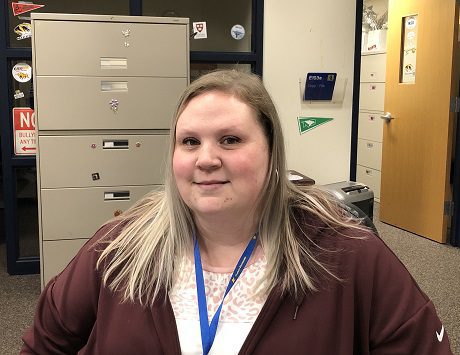 Brittany DiPalma is the new Guidance Office secretary at Hudson Junior High School. Ms. DiPalma is a Hudson graduate who now assists current students and parents with grades, schedules and student records.
Here are a few things to help you get to know Ms. DiPalma:
What is your role here at the Hudson City School District, and where do you work?
I am the guidance office secretary in the Junior High School.
When did you start working here?
I started working here at the end of November 2021.
What does your job entail? What are your responsibilities/priorities?
I do some behind the scenes work to help new students register and help those that are transferring to another district. I can help students and parents access the Student and Parent Portals, and I'm responsible for grade reporting, changing schedules, and record keeping.
What is your education background?
I graduated from Hudson High School in 2009. A few years later, I attended Columbia-Greene Community College and received my associate's degree.
What is your professional background?
In 2015, I accepted my first job in a school setting where I worked as a main office secretary. I realized pretty quickly that I found the right career for me. About a year into it, I was offered a chance to coach sports. I enjoyed it so much, I continued through the rest of my time there. It gave me the chance to build a rapport with the students and families and share/teach the sport I love, which is softball.
Tell us a bit about your life outside of school.
Outside of school, I love spending time with my family and three fur-babies. A few days a week I can be found with my dance ladies at Sternfeld Dance Studio.
What is the best advice anyone has given you?
The life ahead of you is more important than the life behind you. Every day is a fresh start. Take advantage of it.
What is your motto or personal mantra?
You never know what someone is going through. Just be kind. It doesn't cost you anything, and it can change everything.