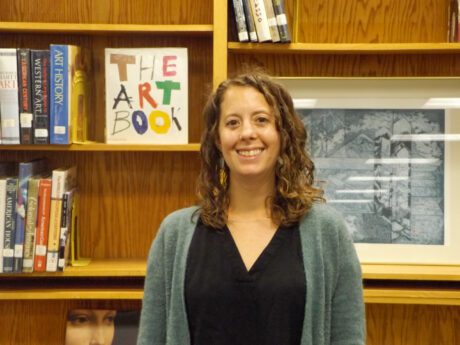 Meredith Zapp is a new reading teacher at Montgomery C. Smith Elementary School. She grew up and attended school in Hudson so she is happy to be back and guiding elementary students along their journeys toward becoming proficient readers.
Here are a few things to help you get to know Mrs. Zapp:
What is your role here at the Hudson City School District, and where do you work?
I am a reading teacher for kindergarten – 5th grade students at the elementary school.
When did you start working here?
My first day was September 1, 2021.
What does your job entail? What are your responsibilities/priorities?
I work with small groups of students in kindergarten – 5th grade to help them progress on their journeys toward becoming proficient readers.
What do you like most about your job?
I love having the chance to work with students in a small group setting and getting to know them and build relationships with each of them!
What is your education background?
I received my Bachelor of Science degree from SUNY Oneonta in Childhood Education. I went to The College of Saint Rose for my Master's in Literacy, Birth-Grade 6.
What is your background like – previous jobs? Before working here, what was the most unusual or interesting job you've ever had?
For the past eight years I have been a reading teacher for kindergarten – 5th grade at MED Elementary School in Chatham. Prior to that, I was a substitute teacher in Hudson. I'm so happy to be back in Hudson since this is where I grew up and went to school! The most interesting job I've ever had was working at an art gallery on Warren Street for a couple of years before I started teaching.
Tell us a bit about your life outside of school.
When I'm not at school I love spending time with my family and friends! I have a four-year-old daughter and an 18-month-old son who keep me busy. I enjoy listening to music, being outside and hanging out with my pets. I have one dog and three cats.
What is the best advice anyone has given you?
The best advice anyone has ever given me was sharing a famous quote by Maya Angelou: "I've learned that people will forget what you said, people will forget what you did, but people will never forget how you made them feel." I love this message and it's something I try my best to live by.
What is your motto or personal mantra?
My motto in life is that everything happens for a reason. This is especially true for me and being able to teach in Hudson. I love it here and always hoped this is where I would get to teach!