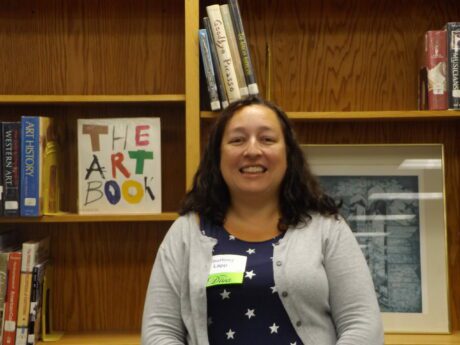 Courtney Lapp is a new Special Education teacher at Hudson Junior High School. Mrs. Lapp may be familiar to some as she previously taught in Hudson a few years ago. She loves helping students accomplish their goals and reach their full potentials.
Here are a few things to help you get to know Mrs. Lapp:
What is your role here at the Hudson City School District, and where do you work?
I am a Special Education co-teacher for grades 7 and 8 in the Junior High School.
When did you start working here?
I originally started working here in September 2015 but left in November 2018 to work at Questar III BOCES and returned to Hudson in September 2021.
What does your job entail? What are your responsibilities/priorities?
My job is to make sure students' IEPs, or Individualized Education Plans, are being followed in all their classes. I use IEPs to see where students are at academically and use the information to provide students with specialized instruction and support so they can be successful in school. I also help them in their classes, with their work, and with their individual goals.
What do you like most about your job?
I love helping students reach goals that they thought they couldn't do! When a student says they can't, I make sure they know that they can and we will figure it out together.
What is your education background?
I went to SUNY Plattsburgh for both my undergrad and my graduate work. I have my bachelor's in Elementary Education Grades 1-6 and my master's in Special Education Grades 1-6, and I am certified in both. I have also taken other courses to be certified Birth through 2nd grade in both special education and regular education, as well as 7-12 in special education.
What is your background like – previous jobs? Before working here, what was the most unusual or interesting job you've ever had?
I started teaching in 2009 at The Starting Place preschool here in Hudson where I got to work with many Hudson students. Then I worked at the former John L. Edwards Primary School starting in 2015 until it closed, and then came up to the Junior High but left shortly after to be closer to home and my new baby.
I worked at Questar III as a Consultant Teacher in their CTE (Career & Technical Education) program. I worked in programs like construction, auto tech, culinary, cosmetology, welding, heavy equipment, and more. I love CTE and talk to students about it if they are interested in going when they get into high school.
Tell us a bit about your life outside of school.
I am married and have a two-year-old daughter that keeps us busy! I also love to cook and bake and love to share my baking creations.
What is the best advice anyone has given you?
Don't be nervous, teaching is in your blood!
What is your motto or personal mantra?
Smile and laugh a lot, life is too short!