One hundred virtual learners at Montgomery C. Smith Elementary School received free earbuds and folding desks in November. The goal is to help virtual students create a designated and focused learning space at home. Watch the video below.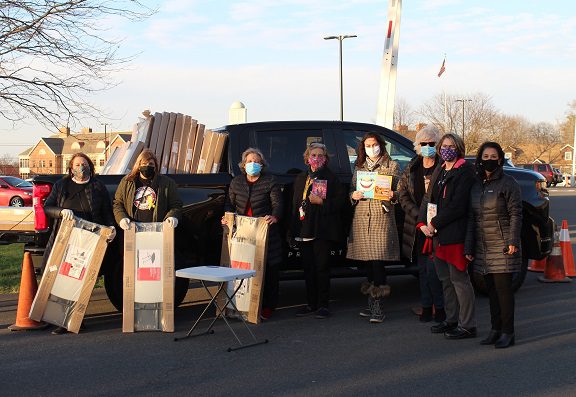 When the Hudson Literacy Fund (HLF) learned that some students were using items like chairs and coolers to prop up their Chromebooks for at-home learning, they wanted to help. The giveaway was made possible by the HLF with additional donations from the Berkshire Taconic Foundation and Staples. Students also received books and art supplies.
"We are excited to be able to support our virtual learners and help provide them with the tools they need to be successful learning at home," said Melissa Brown, an HLF board member who also teaches first grade at MCSES.
"Distance learning is challenging enough," said HLF president Christine Jones. "We can't expect students to excel if they're competing for space at home."
The HLF decided that foldable desks and earbuds were easy ways to transform the at-home learning environment for virtual students.
"Students need their own space and an environment that feels dedicated to learning. Not everyone is so fortunate so we wanted to help change that," said HLF board member and former Hudson teacher, Lisa Dolan.
The Fund's tools have been books, words, mentors, authors and in-school programs. Building students' confidence as readers and writers can form a strong foundation for their future successes. The Hudson Literacy Fund was created in 2013 to support and raise funds for the book festival. Since then, it has grown its work to a broader literacy mission, adding reading programs, book gifts to kids and libraries, monetary gifts to college bound seniors, and a Young Writers Competition. More information is available at thehudsonliteracyfund.com.