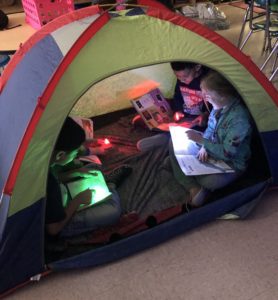 MCSES read nearly 13,000 books during this year's Read-A-Thon! Since kick-off on Jan. 24 until Read-A-Thon Day on Feb. 14, elementary students read a total of 12,696 books! That's about 600 books per day.
During Read-A-Thon, students collected donations for book pledges and set out to reach a reading goal.
On the culminating Read-A-Thon Day, students participated in lots of reading time with fun themes like camping, pajamas and blanket forts. Many classrooms welcomed guest readers including Superintendent Suttmeier and a New York State Trooper. Check out the photos below.
A special twist was added to this year's Read-A-Thon. Since Mr. MacCormack introduced the Houses of MCSES in January, the Houses competed against one another to see who could earn the most Read-A-Thon points for their House. Students earned House Points for the total number of books read, pledges received, and points earned during their book presentations (each House read and presented on a book related to their House's character pillar). With 2,560 books read, $1,046 in pledges and 719 presentation points, House Responsus came in first place at Read-A-Thon 2020 and won a pizza party for the entire House!
Overall, MCSES students raised $4,133.58 for their book pledges! In addition to promoting literacy and a love of reading, the annual Read-A-Thon helps the MCSES Parent/Teacher Organization hold events throughout the year.
Prizes were awarded to the top three pledge earners, as well as one student who got at least $1 in pledges, in their grade category (Pre-K—2nd and 3rd—5th):