Elementary and high school students participated in the annual "A Day in the Life of the Hudson River," a regional event that uses our local geography to engage students in hands-on science.
For the first time, third graders from Montgomery C. Smith Elementary School participated in the large scale research initiative. As in past years, Hudson High School students in Jim McDarby's AP Environmental Science and Marine Science classes, as well as the HHS Envirothon team, also took part in the data collection.
During the "A Day in the Life" research event, thousands of students from Hudson and other schools gathered at more than 100 locations along the Hudson River to learn about the river's ecosystem and collect samples.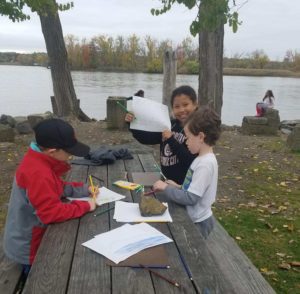 Along with their teachers Tani Quinion and Samantha Moses, who teaches STEAM (Science, Technology, Engineering, Art & Math), third grade students used a casting net to catch and identify fish, measured the turbidity of the water, and used compasses to locate a river scene to sketch.
HHS students collected water samples and performed a variety of chemical tests to determine properties such as dissolved oxygen, pH, salinity and turbidity (or cloudiness). They most enjoyed seine netting, which required them to put on chest waders and enter the Hudson River to try and catch fish for identification. See photos below!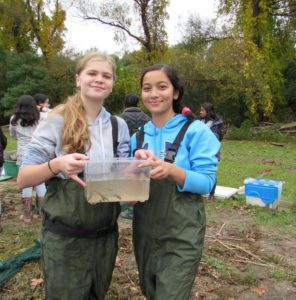 The data collected by students will be studied by the Department of Environmental Conservation and compared with other areas so they can build a better understanding of how their piece of the river fits into the larger Hudson estuary ecosystem. The data collected allows the DEC to create a "snapshot" of the river ecosystem at a certain point in time.
"A Day in the Life" is sponsored by DEC's Hudson River Estuary Program.