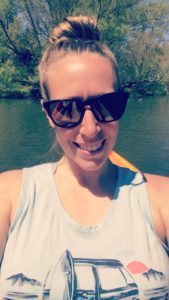 Ms. Taylor Teal is a new Physical Education teacher in our elementary school. She works with our youngest students to help them be active and understand the importance of having a healthy body.
Here are a few things to help you get to know Ms. Teal:
What is your role here at the Hudson City School District, and where do you work?
I am a Physical Education teacher at Montgomery C. Smith Elementary School.
When did you start working in the district?
I started at the beginning of the 2018-2019 school year.
What does your job entail?
I teach P.E. to students in pre-kindergarten through fifth grade. My job is to give students the foundation and skills they can apply to anything active they choose to do in their lives. I also want students to understand the importance of play and having a healthy working body.
What do you like most about your job?
I love working with the kids and watching them accomplish tasks they did not know they could do. I also love the people that I work with.
What is your education background?
I did my undergraduate and graduate work at SUNY Cortland.
What is your background like – previous jobs?
Before coming to Hudson, I taught high school P.E. for three years.
Tell us a bit about your life outside of school.
Outside of work I enjoy any outdoor activity, especially camping in Lake George. I love spending time with my family and friends when I am able to find free time!
What is the best advice anyone has given you?
Treat others with the respect you want to be given.
What is your motto or personal mantra?
Never give up on your dreams.