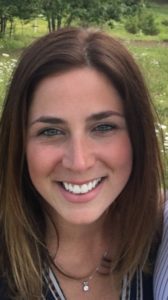 Mrs. Jordan Church is a new elementary Art teacher. She loves spending time outdoors and helping children tap into their creativity.
Here are a few things to help you get to know Mrs. Church:
What is your role here at the Hudson City School District, and where do you work?
I am an Art teacher at Montgomery C. Smith Elementary School.
When did you start working in the district?
September 2018.
What does your job entail?
I teach pre-kindergarten through 5th grade Art. Students learn about different artists, art movements, and how to use different art tools and materials.
What do you like most about your job?
Creating art, of course!
What is your education background?
I have a bachelor's degree in Creative Arts from Siena College and a master's degree in Art Education from the School of Visual Arts.
What is your background like – previous jobs?
I previously worked for the Department of Education in New York City where I taught elementary and middle school Art.
Tell us a bit about your life outside of school.
I love to play soccer, snowshoe, snowboard, and doing activities outdoors. I love spending time with my daughter and husband.
What is the best advice anyone has given you?
"You can have it all, just not all at once." -My mom
What is your motto or personal mantra?
Be positive!