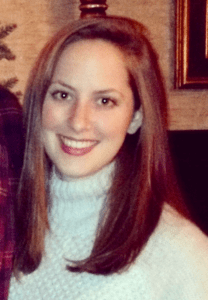 Ms. Emma Chalmers is a new Literacy Specialist at the elementary level. Before coming to Hudson she taught third grade, but now she enjoys working with students in grades K-5 to develop their reading skills.
Here are a few things to help you get to know Ms. Chalmers:
What is your role here at the Hudson City School District, and where do you work?
I am a Special Education Literacy Specialist at M.C. Smith Elementary School (MCSES). I work with students in grades K-5.
When did you start working in the district?
This is my first year with the Hudson City School District. I started in September 2018.
What does your job entail?
I provide support for special education or at-risk students in Reading.
Sometimes I give "push-in" services, working with the students in their main classrooms giving instructional support to teachers as well as individualized and small group intervention. Other times I provide "pull-out" services and work with students in a separate setting (usually my classroom). Pull-out services can also be individualized or in small groups.
What do you like most about your job?
I love that I get to work with students in multiple settings and grade levels. I'm lucky enough to pull students in small groups or even work with them individually. I also get to spend time in classrooms and work alongside some incredible teachers. As a former third grade teacher, I love that I now experience all grade levels from K-5. Building relationships with my students and seeing them grow and find joy in learning is what makes my job the most rewarding.
What is your education background?
I graduated from The College of Saint Rose with a Bachelor's degree in Childhood and Special Education (Grades 1-6). I received a Master's in Childhood Literacy (Birth to Grade 6) from Hunter College. An interesting fact is that I graduated from Saint Rose with Bridget Smith, another literacy teacher at MCSES.
What is your background like – previous jobs?
I started my teaching career as a third grade co-teacher at a charter school in Brooklyn, NY. A year later, I started working at a public school in Brooklyn as a third grade Special Education teacher in a co-taught classroom. I taught four years in Brooklyn and am now entering my fifth year as a teacher.
Tell us a bit about your life outside of school.
As much as I loved the city, I'm so happy to be back in Upstate New York! I'm closer to my family and all the beautiful mountains in the Hudson Valley. I love spending time outside, hiking, and exploring new places. I love music, reading, yoga, working out, and enjoying all that Hudson has to offer!
What is the best advice anyone has given you?
"Change your attitude, change your life." The power of positivity!
What is your motto or personal mantra?
"Finish each day and be done with it. You have done what you could. Some blunders and absurdities have crept in; forget them as soon as you can. Tomorrow is a new day. You shall begin it serenely and with too high a spirit to be encumbered with your old nonsense." – Ralph Waldo Emerson