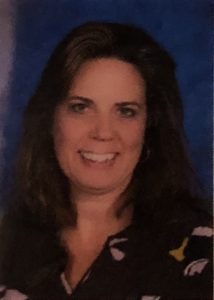 Mrs. Susan Voellm is a new sixth-grade teacher at Hudson Junior High School. She teaches Math and provides additional support in the subject.
Here are a few things to help you get to know Mrs. Voellm:
What is your role here at the Hudson City School District, and where do you work?
I work in Hudson Junior High School as math teacher, providing academic intervention services (AIS) for 6th grade students.
When did you start working in the district?
September 2018.
What does your job entail?
I co-teach in the 6th grade math classrooms as well as pull students out for additional academic support.
What do you like most about your job?
I truly enjoy the moments when I see the students understanding the concepts that I am teaching them. It is a very rewarding position.
What is your education background?
I earned a Bachelor of Science from SUNY Plattsburgh and a Master of Science from Old Dominion University. I am certified in elementary education (through Grade 6) as well as Mathematics (Grades 7-9) and an extension in process for Math (7-12).
What is your background like – previous jobs?
Previously, I worked as a Math teacher at Albany Academy. Presently, I also work as a STEP teacher at Rensselaer Polytechnic Institute (RPI) in Troy, and I'm a Math tutor.
Tell us a bit about your life outside of school.
I am married and have two daughters. I like spinning and working out. I also enjoy reading and sports (softball, baseball and college football).
What is the best advice anyone has given you?
"Treat others as you wish to be treated. One kind word can change someone's day." I especially do this with all of my students.
What is your motto or personal mantra?
"People will forget what you said, forget what you did but people will never forget how you made them feel." – Maya Angelou