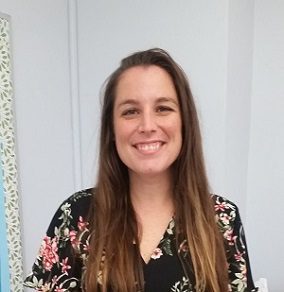 Ms. Renee Marois (pronounced "ma-roy") is a new teacher at Montgomery C. Smith Elementary School. Ms. Marois said she always knew she wanted to be a teacher and considers herself lucky to be able to do what she loves every day.
Here are a few things to help you get to know Ms. Marois:
What is your role here at the Hudson City School District, and where do you work?
I am a second-grade teacher. I work in room 135 in the elementary school.
When did you start working in the district?
I started working here in September 2018.
What does your job entail?
I have 20 second graders that I take care of during the school day. I spend a lot of time planning lessons and preparing fun activities to do each day. We learn reading, writing, math, science, and social studies.
What do you like most about your job?
I love spending time with kids. I especially like reading to them and listening to them read. I also love singing and dancing with my class.
What is your education background?
I went to SUNY Plattsburgh to get a degree in Childhood Education with a concentration in Social Studies. Then I went to Hunter College (a CUNY school in Manhattan) and got a Literacy degree.
What is your background like – previous jobs?
I taught for 13 years before coming to Hudson. I worked in Harlem for four years teaching first grade. Then I taught first and second grade for nine years in Brooklyn.
Tell us a bit about your life outside of school.
I love to watch football. My favorite team is the Giants. I used to play in a touch football league. My grandma taught me how to cook when I was little, so I love making big Sunday dinners for my family.
What is the best advice anyone has given you?
You can achieve anything you want with hard work and patience.
What is your motto or personal mantra?
You can never go wrong by telling the truth.