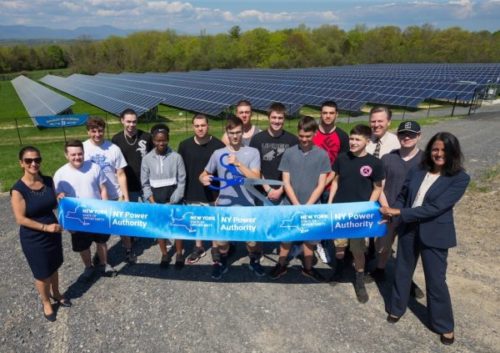 This spring, the Hudson City School District unveiled a state-of-the-art solar panel array behind Hudson Junior/Senior High School. With more than 3,800 solar panels, the installation is the largest school solar project in New York State to date.
The solar field was built through the state-sponsored K-Solar Program, which supports NYS school districts in accessing affordable solar energy. The project is partially funded by the NY Power Authority (NYPA), the NYS Energy Research and Development Authority (NYSERDA), the NYS Education Department and Tesla. No money from the school district was used to fund the Board-approved project, however the District stands to benefit from the cost savings associated with solar energy.
Through a purchase agreement with Tesla and National Grid, the District can receive a credit for all solar-generated electricity at a set price per kilowatt hour for the next 18 years. The use of solar power will provide the District with significant savings on its electricity bill, which will be most noticeable at Hudson Junior/Senior High School. This campus uses the most energy of all district buildings as it is used on evenings, weekends and special occasions to host many school and community events.
Furthermore, the new solar field positions the District as a leader in "green" and renewable energy solutions.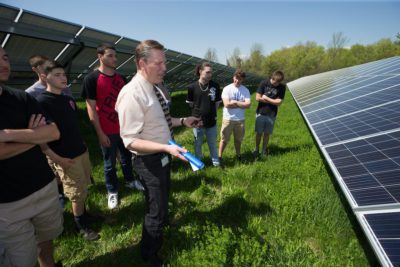 "We are pleased to have this solar array on district property to generate green electrical power for the Hudson Junior/Senior High School campus," said Dr. Maria Lagana Suttmeier, Superintendent of Schools. "Whenever we can engage in environmentally friendly activities or save taxpayer dollars, we are more than willing to do so."
The solar installation also provides potential learning opportunities for high school science classes, including the newly introduced Alternative Energy course. In this photo (above), Technology teacher Mr. Beyer discusses the solar panels with students in the Alternative Energy course at Hudson Senior High School.