On Monday, November 20, 2017, the new driveway on the north side of the junior/senior high school campus will open. Effective 11/20, the new entrance/exit should be used for:
High school student and district office staff parking
Drivers dropping off or picking up students who go to the high school (arrival and dismissal)
Changes to the traffic pattern affect student/district office staff parking and high school parent drop off/pick-up only (until further notice). High school staff, visitors and school buses should continue to enter the parking lot through the main entrance. Parent drop off/pick-up will not be permitted to come down the main driveway.
If you have a student to be dropped off/picked up at the Junior High School, please use the entrance next to the Elks Lodge (201 Harry Howard Avenue).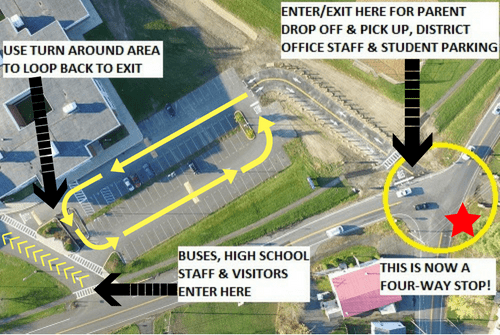 The goal of this part of the capital project is to help improve traffic flow and pedestrian safety, especially during arrival and dismissal. The new parking lot configuration also includes a new turnaround section to allow vehicles to loop around the lot to exit. By offering an alternative entrance/exit, fewer vehicles will need to cross in front of the campus' main entrances or wait behind school buses during dismissal.
As shown in the aerial image (left, courtesy of the Wheeler Drone), the new entrance/exit is a two-way road that opens onto Joslen Boulevard. The intersection, which was previously a three-way stop, will now be a four-way stop. The district received a signed letter of approval from the Town of Greenport Highway Department in January that granted permission for the district to build a new driveway in this location. The only times this intersection will experience higher than usual volumes of traffic are during arrival and dismissal (about 8 a.m. and 2:35 p.m. on school days).
If you have any questions or concerns, please contact the District Office at 518-828-4360, ext. 2101.